Saturday, March 25, 2017 Art of the Belly – 7th Annual Bellydance Festival
Festival Stage: 7:16pm
Carousel Hotel Ocean City, MD http://www.aotb.net/
Sunday, January 29, 2017

Belly Dance Night at Roxy & Dukes
This month's performers are: Brenna Omar Tatyana Dancingfire
$10 cover charge at the door for the show Doors open at 6pm, show starts at 7pm http://bellydanceroxydukes.webs.com/
WORKSHOP: SILKEN CONSTRICTOR 4:00pm – 5:30pm
Sunday, January 22, 2017 2:00pm – 4:30pm
Baile Noir WinterLust by BrennSelle – A Belly Dance Soiree at Drom, NYC
Wander through WinterLust to enjoy chilling tales through theatrical belly dance by NYC's most illustrious artists. Enjoy dance, music, food and cocktails!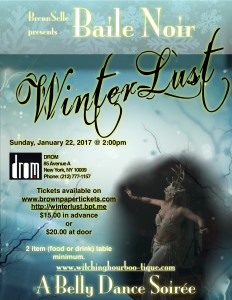 Must be 21+ $15.00 advance tickets or $20.00 at the door. TICKET LINK: http://winterlust.bpt.me/
2 purchase minimum of either food or drink.
Drom … 85 Avenue A New York, NY 10009
Performances by: Alice Giampieri Anastasia Pridlides Brenna Crowley Carola Apsaraa Debbie Despina Cartsos Giselle Mencio Heather Bondra Holly Seefeldt Irina Bellyrina Maki Moves Sultana Taj Sam Nieves Tamika Bethelmie
Saturday, November 12 – Sunday, November 13, 2016

BrennSelle Presents
Witching Hour Boo-tique 2016: Illusionox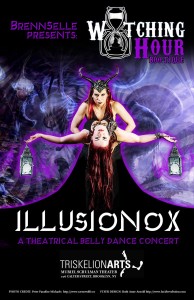 A Theatrical Belly Dance Concert!
Welcome to the Land of Illusionox! A twist on reality where magic is found in far off lands not yet discovered and those rarely seen. Portals open to reveal alluring dance performances by mystical beings, whimsical beasts and warriors of the light…and dark.Behold the fantastical with Witching Hour Boo-tique's Illusionox, a concert inspired by the fantasy genre found in film, literature, role games, and art. Follow the trail of mischievous sprites to witness performances by:Brenna Crowley
BrennSelle
Cienna
Dalia Carella Dance Collective
…

Danielle Hutton
DeFrancesco Dance
Giselle BellydanceNYC
Karen Wahl
Nyx Asteria & The Mystique Collective
Lunaris
Matt Elliot
Samantha NievesLight bites and beverages available!!November 12, 2016 doors @ 7:30pm, curtain @ 8:00pm
November 13, 2016 doors @ 1:30pm, curtain @ 2:00pm
The Muriel Schulman Theater at Triskelion Arts
106 Calyer Street
Brooklyn, NY 11222
(G train to Nassau Avenue or L train to Bedford Avenue)
Tickets: $25.00 in advance or $30.00 at the door
http://witchinghourboo-tique2016.bpt.me/
Sunday, November 6, 2016
Mirapiece Theater New York
Join us for an evening of belly dance as we present Mirapiece Theater New York! Select participants in the Mirapiece Theater Intensive will be performing in two pieces choreographed by Mira Betz, and we have wonderful guest dancers who will be sharing their passion for belly dance on the stage! Performers include:
MIRA BETZ
Rin Ajna
Irina Akulenko
Reyna Alcala
Brenna Crowley
Maki Moves
SuperKate
…

Cesar Madera
Serena Spears
Irina Kom
Entelechy Dance
Alice Giampieri, Lauren Robbiani, & Lauren Caspar
Francesca Avani
Jaylee
and Yvonne Cordoba
November 6, 2016
Doors open at 6:30pm
Show starts at 7:00pm
$25 in advance
$30 at the door
The Players Theatre
Main Stage
115 MacDougal Street
between West 3rd and Bleecker Street
Saturday, October 22, 2016
Raven's Night – Celestial Bodies
http://ravensnight.com/

Doors: 5:00 pm
The All Hallow's Exposition: 5:30-6:30pm
• Featuring pre-show entertainment such as Tarot card readings, Variety arts, Sideshow performances and plenty of photo ops with friends!
Salon Lunaire: 6:30-7:15pm
Cabaret Melancholia: 7:30-10:00pm
The Birchmere 
703-549-7500 | 3701 Mount Vernon Avenue, Alexandria VA 22305
Please be advised that the adult content of this show is suitable for ages 18+.
Folks under 18 must be accompanied by an adult.
Sunday, September 25, 2016
BrennSelle presents Baile Noir: Dancing in Purple Rain – A Tribute to Prince
6:30pm – 9:00pm
DROM
85 Ave A, New York, NY 10009
http://www.dromnyc.com/
March 17-20, 2016
Art of the Belly – 6th Annual Belly Dance Festival in Ocean City, MD hosted by Naimah and Amandari
Performer and Workshop Instructor
Friday Workshop 5:00pm – 6:30pm: Pop Fusion Belly Dance: Moonwalker Edition
For more information and to sign up for workshops: http://www.artofthebelly.com