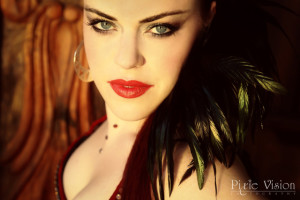 Brenna Crowley is an eclectic belly dance artist, choreographer and instructor in NYC, performing and teaching locally and across the country in many theatrical dance productions, belly dance festivals and other events each year since 2007. She has performed as a featured soloist as well as a member of Sera Solstice's Solstice Ensemble, Solstice Project, and Solar Tribe, Altagracia's Caribbean Rose Dance Company, Ayshe's Cult of Isis Ensemble and many others. She is the director of her troupe Zilla Dance Ensemble, which was formed in 2009. Since its inception, they have performed in numerous theatrical shows, belly dance festivals and other dance events each year. The dancers that make up this ensemble come from all walks of life and various belly dance disciplines; together they celebrate the exuberance of movement and music.
She is part of the dance event production team BrennSelle. With Giselle BellydanceNYC, they have produced and curated themed dance shows on the smaller scale with their Baile Noir soirees and on the larger scale with the annual Witching Hour Boo-tique theatrical dance concert. The events have been highly praised and showcase some of the most talented and creative performers mainly in the Tri-State Area.
Brenna draws from American Cabaret Belly dance and Tribal Fusion styles as well as movement influences from hip hop, street jazz, house, martial arts, modern dance, and flamenco. She is known for her fun and imaginative choreographies, intensity, theatricality, commanding stage presence as well emotive performances.
Since 2008, Brenna has been teaching at Serena Studios and has also taught at Solstice Studio and for Rise Dance Company. She has also traveled taught workshops at other dance festivals and events including Art of the Belly, Lumen Obscura and Raven's Night. As an instructor, she is known for her concise breakdowns and metaphors, which are always paired with a fun atmosphere and a sweaty good time.
She has had the fortune to study under some of the best instructors in the belly dance arena – starting in 2004 at Serena Studios with the legendary Serena Wilson, Kelley McKinnon, Zenaide, Layla Mary, Altagracia, Dorit, Rayhana and Najma. In the Tribal world she has primarily trained under Sera Solstice since 2007 and has taken numerous and extensive workshops and intensives with Mira Betz, Zoe Jakes, Mardi Love, Rachel Brice, Amy Sigil, Kami Liddle, Heather Stants and Sarah Johansson Locke. In addition to her current studies under Sera Solstice and Mira Betz, Brenna continues her movement training with regular classes and workshops in flamenco, aerial circus arts, street jazz, vogue and house dance. She is also an amateur SFX makeup artist, mostly self-taught and furthered her knowledge with Continuing Education classes at School of Visual Arts.