Saturday, August 4, 2018 – Bridge Street Belly Dance Presents: Mira Betz

Bridge Street Belly Dance is excited to present "Why I Dance", featuring California based multi-faceted artist, Mira Betz.Through video projections, belly dance, and performance art, experience dancers dig deep in this vulnerable and unique fusion belly dance show. Join us on this journey as artists share what gives them their impetus for dance. Mira Betz has been teaching and performing Traditional and Contemporary forms of Middle Eastern dance for over 25 years. Her work has been instrumental in the emergence of a new style known all around the world as Tribal Fusion, a dance rooted in tradition while forging new bonds between world dance and individuality. "Tribal fusion is not about copying a look or a move. It's about figuring out who you are and interpreting that through the language of this dance that we've inherited." -Mira Betz
TICKETS GO ON SALE ON JUNE 30 AT 12PM.
Featured artists and presentations by:
Mira Betz, Danielle Hutton, Brenna Crowley, Francesca Avani, Jo Boring, Tessa, Elsa, Jaylee, Yvonne Michelle, Rose Carballeira, & Yoni Biyé
——————————————————————————————————————
Sunday, September 30, 2018 – A Choreographer's Vision: Unmasked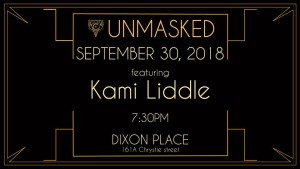 What kind of mask do you wear in your day to day life? What does it look like to remove it? Unmasked is a theatrical fusion belly dance salon that explores the inner self and a person's ability to reveal it. Performers are given the freedom to remove their masks and reveal what is authentic to them, from an expression of joy to an ode to self love.
Featuring
KAMI LIDDLE
Rin Ajna
Carola Amuletic
Francesca Avani
Rose Carballeira
Brenna Crowley
Groove Merchant
Hantara
Danielle Hutton
Heather Labonté
Yvonne Michelle
and White Rose Collective
$35 in advanced; $40 at the door
TICKET LINK COMING SOON!
Dixon Place
161A Chrystie Street
between Delancey and Rivington Streets
Bar Opens at 6:30pm.
Doors open at 7:00pm.
Show starts at 7:30pm.http://choreographersvision.com
—————————————————————————————————————
Sunday, October 28, 2018 – Witching Hour Boo-tique 2018: Mythos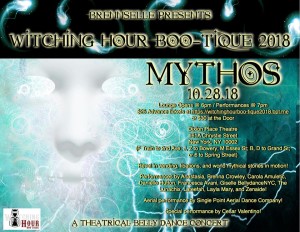 A Theatrical Belly Dance Concert!Stories, fables, legends and folklore. They explained the unexplainable, and still hold over time. In Mythos, dancers weave their interpretations of worldly mystical tales, presenting you with an tapestry of movement, spirit and truths.
Performances by:
Anastasia
Brenna Crowley
Carola Aspara
Danielle Hutton
Francesca Avani
Giselle BellydanceNYC
The Lunachix
Lateefah
Layla Mary
Zenaide
Aerial performance by Single Point Aerial Dance Company!
Special performance by Cesar Valentino!
Revel in vending and libations!!
October 28, 2018 Lounge opens @ 6pm, Performances @ 7pm
Dixion Place Theatre
161A Chrystie Street
New York, NY 10002
Tickets: $25.00 in advance or $30.00 at the door
Ticket Link: https://witchinghourboo-tique2018.brownpapertickets.com/
——————————————————————————————————–